NAEP Environmental Excellence Awards
Nomination Information

NOMINATION FORM 2015 PRESIDENT'S AND NATIONAL ENVIRONMENTAL EXCELLENCE AWARDS
****DEADLINE EXTENDED UNTIL OCTOBER 31, 2014****
The National Association of Environmental Professionals (NAEP) is seeking nominations for our annual National Environmental Excellence Awards. We are requesting nominations from you, your company, or agency describing outstanding environmental contributions from applicable projects and programs. It is not necessary for you or your organization to be a member of NAEP and nominations may include projects or programs recognized by others. The Environmental Excellence Award nomination(s) are to be submitted to the NAEP Awards Review Committee and must be received by October 31, 2014. Each selected Award Winner will receive a beautiful award plaque and an invitation to briefly address participants at the Annual NAEP National Conference. This year's conference will be held in Honolulu, Hawaii, April 13-17, 2015.

If you have any questions please call Abby Murray at 856-470-4521.

The form as a .pdf can be found by clicking here.
The form as a word .doc can be found by clicking here.
WEDNESDAY, NOVEMBER 19, 2014,
WEBINAR ANNOUNCEMENT

REGISTER NOW BY CLICKING THE LINKS BELOW
NAEP Nov 19 2014 webinar-bill me
NAEP Nov 19 2014 webinar-credit card payment
Valuing Functions and Values of Ecosystems

in Environmental Planning and Analysis
The National Association of Environmental Professionals (NAEP) and Vermont Law School (VLS) invite you to attend an educational webinar on "Valuing Functions and Values of Ecosystems in Environmental Planning and Analysis." The webinar will be held on Wednesday, November 19 from 1-2:30pm ET. A description of what will be covered is below.
Valuing ecological functions and values can be critically important in assessing project benefits and costs, in relation to the environment, engineering, and economics. Increasingly, the project planning and environmental review process is moving beyond traditional basic models of supply and demand for economic modeling and thoughtfully evaluating the non-market goods, including the consideration of the functions and values associated with natural systems that contribute to human welfare and sustainable practices. Policymakers and regulators are being asked to reflect the lost value associated with diminished ecosystem services resulting from pollution or poor management to design efficient regulations and natural resource management plans. In this webinar, panelists will explore the theory, the policies, and the practical challenges of putting a value on ecosystem services. Panelists will discuss cases where a value is used to defend preservation of a natural system, or as a basic cash penalty against someone who destroys a resource. Looking at theory, existing policy, and case studies, panelists will explore the potential value, and occasional tangles, of using environmental valuation to protect and remediate natural systems.
Read more...

The NAEP needs "You" to serve as an elected at-large Board Member
NAEP is a voluntary association headed by a Board of Directors. The Board is composed of 12 at-large elected members from the environmental field, four ex-officio members, and one chapter representative for each 150 NAEP members in the Chapter. All serve without compensation. Each year prior to the annual conference, 4 at-large Board Members are elected to serve a three-year term of office. At-large Board Members are expected to attend all of the quarterly board meetings and the annual conference. To be considered, your Self Nomination Form must be completed by 6:00 PM on November 14, 2014. Please submit all forms by email to Tim Bower at naep@bowermanagementservices.com .
Read more...

NAEP/APU Three-Part Webinar Series 2014
Join us for our third exciting year of interactive webcasts with industry experts sponsored by American Public University and the National Association of Environmental Professional (NAEP).

APU and NAEP are collaborating on this 3-part series focused on professional development for environmental professionals; helping you build the skills you need for success.
Below is a list of the topics of the 2014 webinars:
Part 1: Effective Project Management
Wednesday, February 19, 2014, 12:00 p.m.–1:15 p.m. ET
Part 2: Environmental Customer and Client Skills
Wednesday, July 16, 2014, 12:00 p.m. – 1:15 p.m. ET
Part 3: Top 5 Public Speaking Tips for Environmental Professionals
Wednesday, November 12, 2014, 12:00 p.m. – 1:15 p.m. ET
To register click the link below:
http://www.apu.apus.edu/lp2/webcast/NAEP-2014/index.htm
For a detailed description of each of the three webinars in this series please click below to read more.
Read more...
JIM ROBERTS MEMORIAL SCHOLARSHIP FUND
Jim Roberts 2015 Scholarship Competition Kickoff
NAEP announces the kickoff of the competition for the 2015 Jim Roberts Scholarship Award. The award winner will be announced at the NAEP 2015 Annual Conference in Honolulu, Hawaii. The link to the Scholarship Application is below. Submissions are due Friday, January 23, 2015.
https://naep.memberclicks.net/assets/documents/2015RobertsScholarshipApplications/naeprobertsscholarshipapplication-2015.doc
Read more...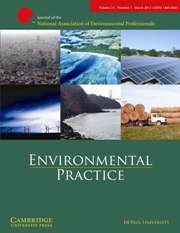 ENVIRONMENTAL PRACTICE
The journal of the National Association of Environmental Professionals
SERVE ON THE ENVIRONMENTAL PRACTICE
EDITORIAL ADVISORY BOARD
The editorial office of Environmental Practice is seeking to expand the membership of the Editorial Advisory Board. Environmental Practice is a peer reviewed journal published by Cambridge University Press for the National Association of Environmental Professionals. The journal has an interdisciplinary focus, and reaches thousands of scholars and practitioners across the United States.
Click Here for More Information on The Environmental Practice Editorial Advisory Board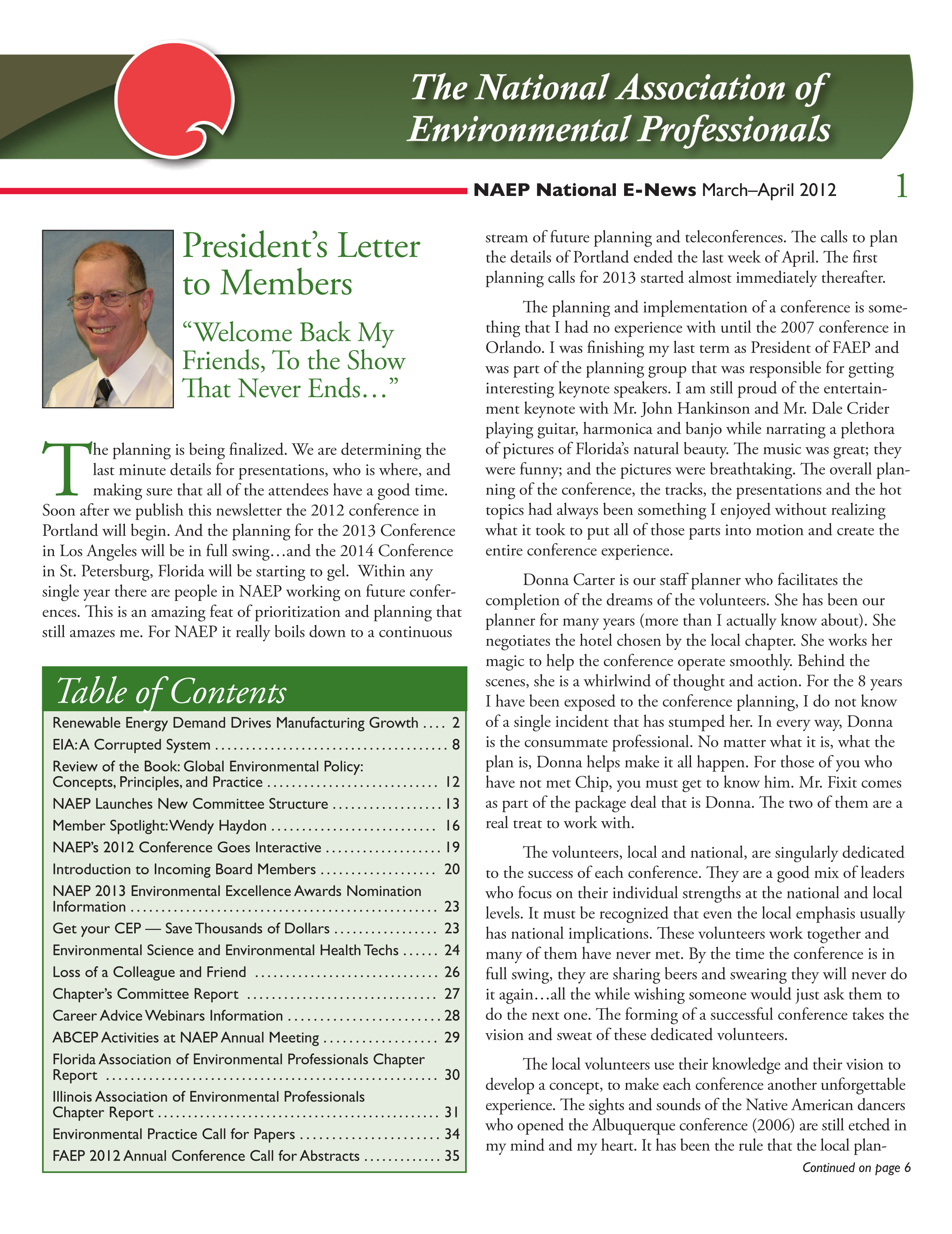 NAEP March/April 2014 E-News is now available
Please click the link below to access the NAEP March/April 2014 E-News. This issue contains feature articles and important association information.
Included in this issue is:
Read more...
MISSION STATEMENT
Our mission is to be the interdisciplinary organization dedicated to developing the highest standards of ethics and proficiency in the environmental professions. Our members are public and private sector professionals who promote excellence in decision-making in light of the environmental, social, and economic impacts of those decisions.

Our vision is to:
Be the primary source of unbiased information on environmental practices
Support the advancement of the environmental professions as a whole and our individual members in their careers
Encourage better decision-making that thoughtfully considers the full implications of those decisions