NAEP Announces sales of past webinar recordings
NAEP has recordings available for the 5 most recent webinars. The recordings are available for purchase and viewing. Below is a list of the available webinars. More recorded webinars will be added so please check back.
Read more...

NAEP/APU Three-Part Webinar Series 2014
Join us for our third exciting year of interactive webcasts with industry experts sponsored by American Public University and the National Association of Environmental Professional (NAEP).

APU and NAEP are collaborating on this 3-part series focused on professional development for environmental professionals; helping you build the skills you need for success.
Below is a list of the topics of the 2014 webinars:
Part 1: Effective Project Management
Wednesday, February 19, 2014, 12:00 p.m.–1:15 p.m. ET
Part 2: Environmental Customer and Client Skills
Wednesday, July 16, 2014, 12:00 p.m. – 1:15 p.m. ET
Part 3: Top 5 Public Speaking Tips for Environmental Professionals
Wednesday, November 12, 2014, 12:00 p.m. – 1:15 p.m. ET
To register click the link below:
http://www.apu.apus.edu/lp2/webcast/NAEP-2014/index.htm
For a detailed description of each of the three webinars in this series please click below to read more.
Read more...
JIM ROBERTS MEMORIAL SCHOLARSHIP FUND
Jim Roberts 2015 Scholarship Competition Kickoff
NAEP announces the kickoff of the competition for the 2015 Jim Roberts Scholarship Award. The award winner will be announced at the NAEP 2015 Annual Conference in Honolulu, Hawaii. The link to the Scholarship Application is below. Submissions are due Friday, January 23, 2015.
https://naep.memberclicks.net/assets/documents/2015RobertsScholarshipApplications/naeprobertsscholarshipapplication-2015.doc
Read more...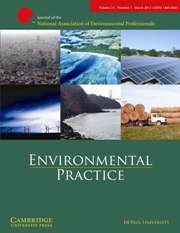 ENVIRONMENTAL PRACTICE
The journal of the National Association of Environmental Professionals
SERVE ON THE ENVIRONMENTAL PRACTICE
EDITORIAL ADVISORY BOARD
The editorial office of Environmental Practice is seeking to expand the membership of the Editorial Advisory Board. Environmental Practice is a peer reviewed journal published by Cambridge University Press for the National Association of Environmental Professionals. The journal has an interdisciplinary focus, and reaches thousands of scholars and practitioners across the United States.
Click Here for More Information on The Environmental Practice Editorial Advisory Board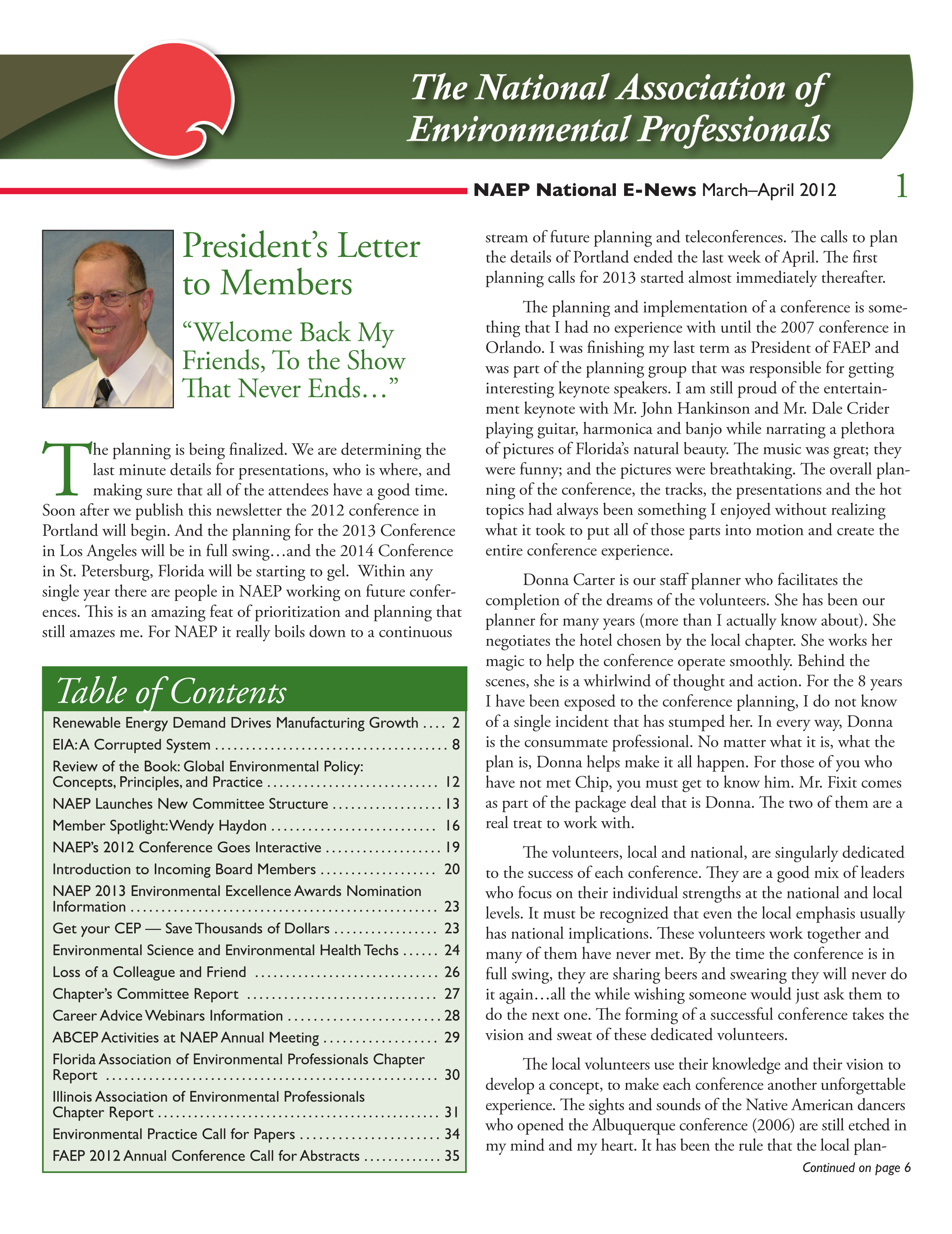 NAEP March/April 2014 E-News is now available
Please click the link below to access the NAEP March/April 2014 E-News. This issue contains feature articles and important association information.
Included in this issue is:
Read more...
MISSION STATEMENT
Our mission is to be the interdisciplinary organization dedicated to developing the highest standards of ethics and proficiency in the environmental professions. Our members are public and private sector professionals who promote excellence in decision-making in light of the environmental, social, and economic impacts of those decisions.

Our vision is to:
Be the primary source of unbiased information on environmental practices
Support the advancement of the environmental professions as a whole and our individual members in their careers
Encourage better decision-making that thoughtfully considers the full implications of those decisions